The price of Dogecoin (DOGE) has been rising rapidly since October 18, breaking away from long-term and short-term downside resistance lines.
However, despite the recent breakout, Dogecoin shows no signs of accelerating its upward movement.
Dogecoin has broken above long-term resistance
Technical analysis of the weekly timeframe shows that the price of Dogecoin has fallen below the long-term descending resistance line after reaching an all-time high in May 2021. The decline culminated at a low of $0.049.
After that, DOGE rebounded but failed to consolidate above the resistance line. Failed attempts led to the formation of lower highs and long upper wicks (marked with red icons on the chart), which is considered a sign of selling pressure.
In November, the asset finally managed to break above the trend line, which by then had held for over 900 days.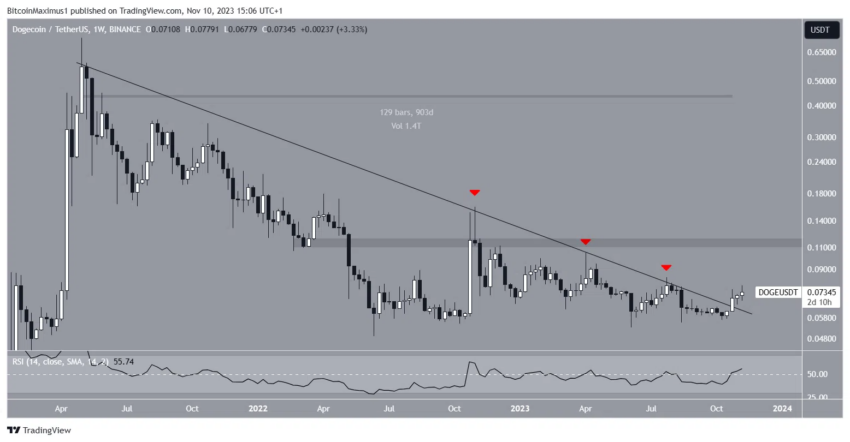 The weekly relative strength index (RSI), meanwhile, does not yet confirm the direction of further movement: it will be possible to speak unequivocally about the continuation of growth only after the close.
DOGE price prediction: the rise may not be far off
While the weekly timeframe gives predominantly bullish readings, the daily timeframe suggests that a pullback may occur before the continuation of growth. The reason for this is the daily RSI, which formed a bearish divergence (marked in green on the chart). Its appearance often leads to downward movements.
If the DOGE price continues to fall, it may decline by another 9% and reach the nearest support at $0.067.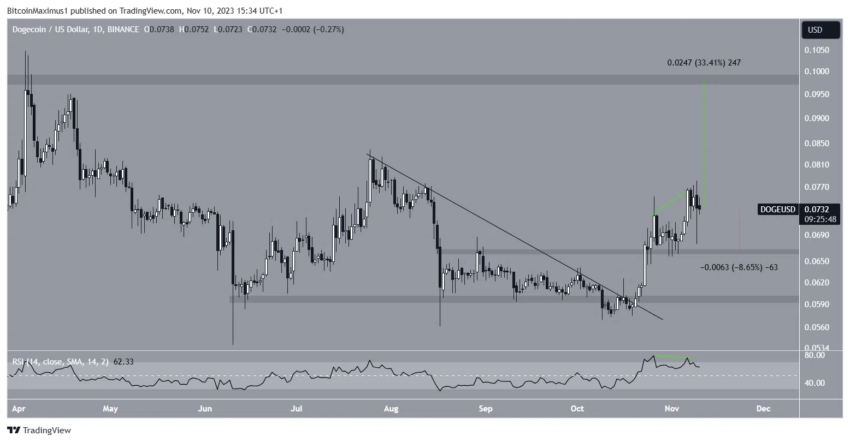 Nevertheless, the growth above the local maximum of $0.078 will mean the completion of the correction. In this case, we can expect a 30% rally to the next resistance at $0.10.